Chain Theatre is proudly staging the world premiere of A Will to Live, a new production that tells the story of 99-year-old New Yorker and Holocaust survivor, Helena Wienrauch, and her experiences from childhood to the Holocaust (where she survived imprisonment in three concentration camps) to the end of the war. The immersive one-woman show is adapted from Helena's memoir of the same name, written in 1945. Her story is as much a reminder of the Nazi's capacity for evil as it is a vivid illustration of the endurance of humanity. A Will to Live is a timeless testimony as to why we must never forget the horrors of the Holocaust and continue to uplift the voices of survivors and those calling for an end to antisemitism.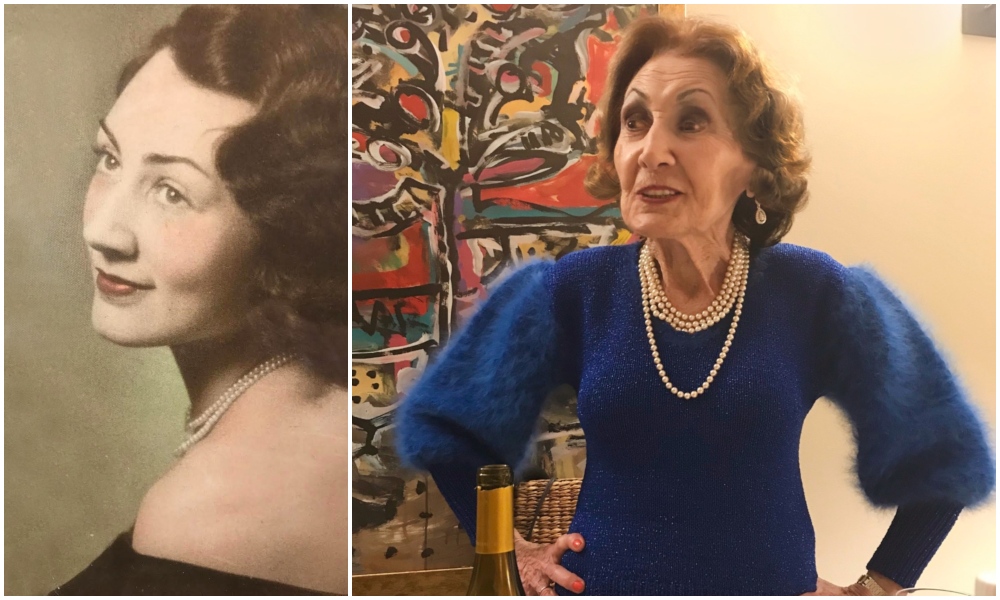 Helena Wienrauch
I reached out to Kirk Gostkowski, Adapter for A Will to Live and Artistic Director at Chain Theatre, for some insight on the play, the creative process, Helena's story, and what he hopes audiences will take away from the show.
Kirk Gostkowski, Adapter of
A Will to Live
and Artistic Director at Chain Theatre
As a proud Jew, I feel an intimate connection to Helena's story. Can you tell us more about the inspiration behind adapting her memoir?
I met Helena Weinrauch in 2019 when Fascination, a documentary about her, was playing at our film festival, and she is one of the most incredible people I have ever met. I was so overwhelmed by her message of love despite living through the most horrible circumstances imaginable. She told me she had written a memoir that was never published about her experience during the Holocaust. When I read her powerful words I immediately saw the possibility of it being a play. The director Rick Hamilton and myself started making plans and talking to Helena about the project within days.
How does the play honor Helena's story and contribute to preserving the memory of the Holocaust?
The play is Helena's words taken directly from her memoir. A first-hand account, written immediately after the war. Her voice and recollection are fresh, having just lived the events, and her writing is powerful. She is a brilliant woman and an exceptional writer. Sharing this direct account of history with our audience may be the most important thing we have ever done as a theatre organization. Masha King, who portrays the lead role in the play, has shared her personal connection to the themes of loss and displacement.
How does Masha's performance bring authenticity and emotional depth to the character, and how does it resonate with audiences?
Masha King
Masha King is a rare talent. She has a great understanding of what it means to bring this story to life, and the role is a gargantuan task. We are so fortunate to work with someone who has direct experience in her family with this time period and knows how to use it. I think people are going to be talking about her performance for a long time to come.
In light of the current social climate, how do you believe A Will to Live can help raise awareness and foster dialogue about the impact of hate and the resilience of the human spirit?
Throughout this process, it has become clear to me that this history is moving further away from all of us. Time, distance, and a lack of direct connection to the survivors are affecting people's tolerance for lies. There is an adult generation now who does not have the experience of their grandparents living through the second world war. Holocaust deniers, Neo Nazis, and talking heads are fueling the fans of hate again. We can never forget this history. We MUST tell these stories.
Otto Frank, in his own lifetime, had to defend the authenticity of his daughter Anne's diary. The thought of that man, having lived through losing his whole family and then having to start legal action against these extremists, shakes me to my core. There have always been Holocaust deniers. We must always fight their hatred with the truth. People who read Helena's diary in the past told her to keep it to herself. That it couldn't be possible what happened to her. Well, it did happen. And that incredible woman lived to tell her story and she had the strength to even forgive. She deserves our time and respect. We can never let anything like this happen again.
How does A Will to Live capture the essence of Helena's experiences and convey the message of hope and strength to audiences?
These are Helena's words. And words can transcend time and space. I believe Masha King's performance with Rick Hamiliton's direction will transport you to a different era, and the experience will be like a friend telling you the most difficult time of their life.
Helena Weinrauch, photographed by Idris Solomon for The New York Times
Read some of Beauty News NYC's other Q&As HERE.
Catch A Will to Live in a limited engagement at Chain Theatre from Friday, August 18th, through Saturday, September 16th. Purchase tickets HERE.
Read more about Helena Wienrauch in The New York Times' "Dancing Saved Her Life. Twice." and Moment Magazine's "The Girl in the Blue Sweater: One Pandemic later."